Alexandra Roivas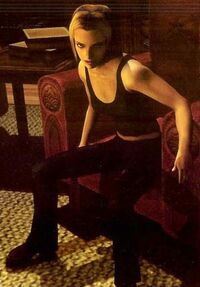 Alexandra Roivas is the main protagonist of Silicon Knights' GameCube title, Eternal Darkness.
A.D. 2000 — Rhode Island, USA
Alexandra, a student at a Washington university, is a headstrong and independent woman. Imaginative and quite intelligent, Alexandra is completing her graduate degree in abstract mathematics and number theory. She is stubborn, and her obstinate attitude often gets her into trouble. She has returned to Rhode Island to tend to her deceased grandfather's estate and to find some answers about his gruesome death.
Above text taken from game manual.