Bella Goth
Bella Goth is a recurring character from The Sims series. She is the most well-known Sim, being in practically every version of the game and having some sort of strange story involving her.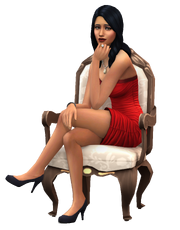 Bella is very outgoing and friendly towards everyone. She is very neat and organized and loves taking care of her family.
Bella is known for being extremely beautiful and well-kept. She wears a long, red dress with black heels. Bella has long, dark hair, and tan skin. In most games, she appears as an adult, married, with children. In The Sims 3, Bella is in the "child" life stage.
Mother - Jocasta Bachelor
Father - Simis Bachelor
Brother - Michael Bachelor
Husband - Mortimer Goth
Daughter - Cassandra Goth
Son - Alexander Goth