BiteFight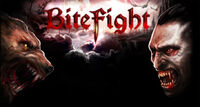 An MMO about a war between werewolves and vampires. As of April 13, 2008 the game has over twelve million accounts. It was released on February 1, 2006.
Getting Started
Gameplay is non-linear and the player has several different choices of how to progress in the game. First a player must choose the race of werewolf or vampire. There are no real differences between the two in the gameplay. Then they are able to make gold and level up by going on manhunts, questing in the city, battling members of the opposite race, battling demons in the grotto, or working in the graveyard.
PvP Combat
Members of the opposite race may battle each other for possible gold and experience. The battle system is based on several character stats, as well as player level.
Cheats
Gold/Hellstones/Experience can be gained through keywords in the messaging system.Guide
Registration
Creating an account on the game is free; however, hellstones can be bought with real money and used to purchase special equipment, potions, items or the Shadowlord upgrade. The Shadowlord upgrade is a paid membership that costs 15 hellstones and lasts 14 days. It gives the player the gold equivalent to twelve hours of work, the ability to fight every five minutes instead of every fifteen, a folder-sorted inbox, a custom character picture, a 100% health potion and double the hunting time. For more info