Brickstown
Brickstown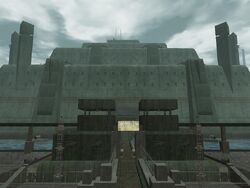 The Ziggurat, destination for all evil-doers. Until Arachnos breaks them out. Or they just feel like leaving.
Statistics
Official Name
Brickstown
Level Range
30-39
Zone Type
City
Area
0.73 square miles
Arena Access?
No
Trainer
Swan
Task Force
Manticore
Strike Force
Trial
Hero Corp Field Analyst
263, 06, 1528
Fortunata Fateweaver
Zone Events
Monster Spawns
Transportation
PTA Green Line
Hero Groups
Villain Groups
* Council
* Crey
* Freakshow
* Prisoners
Contacts
* Allison King (Magic)
* Merisel Valenzula (Mutant)
* Lou Pasterelli (Science)
* Neal Kendrick (Tech)
* Colleen Nelson (Mutant)
* Gordon Stacy (Natural)
* Steven Sheridan
* Serafina (Special Magic Vendor)
* Holsten Armitage (Special Science Vendor)
Districts
* Seven Gates
* The Mashu Bridge
* The Crescent
* The Abyss Towers
* The Ziggurat
* Dark Waters
* Prison Power Station
* The Chasm
Exploration Badges
* Mystic: -594, 32, 1379
* Inmate: -1726, 24, 1155
History Plaques
* Scholastic Plaque 2: -229, 8, -370, Wall Mounted
* Scholastic Plaque 3: -3463, 4, 2062, Pedestal
Connected Zones
* Crey's Folly
* Independence Port
Brickstown is dominated by the Zigursky Penitentary, also known as the Ziggurat. It houses all of Paragon City's prisoners, normal or superpowered. Even the Reichsman is buried deep down in there somewhere. For the most part, however, its security is rather loose. You can tell by the dozens of prisoners hanging out around the zone, beating up cops while wearing their orange jumpsuits. It's claimed Crey may be partially responsible for this due to some side effect of their high tech experiments interfering with Zig security, Crey has of course denied everything. The tutorial level for City of Villains takes place in an instanced portion of this zone, as if things weren't bad enough, Arachnos is always looking for the latest possible Destined Ones to break out and take back to The Rogue Isles.
Other than the Zig, the zone has the usual skyscrapers, as well as a number of brick-covered buildings which gives the zone its name. You can also find The Council trying to recruit more fascists, and the Freakshow with some good deals on stereos.