Candy Nova
DJ Candy Nova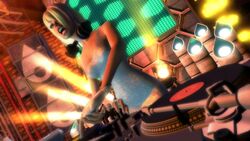 DJ Candy Nova is a fictional playable female character from the short-lived, DJ Hero Series. She appears in both DJ Hero 1 and 2. It's also possible that she could have appeared in DJ Hero 3D.
Candy Nova made her debut in DJ Hero. She's one of the characters that you are allowed to play with at the start of the game.
Candy Nova comes back in DJ Hero 2, still playable at the start of the game. Her outfits are much more stylish than the ones from the first game. This is due to her having become famous according to the game's characters designer.
It is possible that Candy Nova would have appeared in this game, considering the she's a fan-favorite and probably the most known female character in the series.
Many people believe that she's DJ Hero's version of Judy Nails.