Deer Avenger Series
Deer Avenger is a series of video games about a deer who hunts humans. It was developed by Simon & Schuster Interactive and Hypnotix. It is a parody of typical hunting games, prominently Deer Hunter.
The protagonist of the game is a deer named Bambo (an obvious nod to the action movie hero Rambo and the Disney character Bambi). He is a bipedal deer who hunts humans in a fashion similar to typical deer hunting to avenge all those deer that got killed by human gunfire. He can tote a vast array of weapons ranging from slingshots to machine guns, for example the R.E.M-16, and he mounts the heads of his human game on the wall of his cabin. He is voiced by Brian McCann, who frequently appeared on Late Night with Conan O'Brien.
In the first three games, Bambo had a sleek physique with a bandana tied around his forehead, a forest green hunting vest, and an ammo bandolier. However, in the fourth game, Bambo was given a broad-shouldered, muscular physique. The cause for this change was never explained.
Bambo is very crude and crass, often farting, and yelling obscenities and stereotypical jokes at his prey. He also is very sexually inclined, and is often portrayed having sex with a doe.
Starting with Deer Avenger 3D, polygon characters are used.
In the 4th edition of the game, one of the jokes one of the characters makes as his angel floats to Heaven is that he will be back in Deer Avenger 5. However, a fifth game has yet to be made.
Stag Party was released on January 1, 2000. It features Deer Avenger and Deer Avenger 2.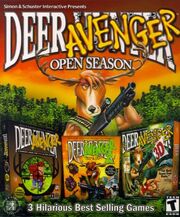 Open Season was released in 2001. Deer Avenger: Open Season contains three previously released titles: Deer Avenger, Deer Avenger 2, and Deer Avenger 3D and All Game Guide.