Derek Smart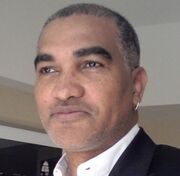 Derek K. Smart is the president and lead developer of 3000AD, Inc., a game designer based in Fort Lauderdale, Florida. In addition he is president of and investor in Quest Online, developers of the MMO Alganon.[1] He is an independent video game designer and software developer, and the creator of the Battlecruiser 3000AD and Universal Combat video game series.
Smart is as well known for his online presence as he is for the games that he makes.
Smart is a board member of the Miami chapter of the International Game Developers Association.[4]
Smart has worked with various publishers over the years, including industry powerhouse Take 2 Interactive, which released his first game Battlecruiser 3000AD in 1996 and which was listed in their SEC filing when they went public in 1997.[5] Prior to the release Smart and Take 2 were involved in a dispute over the premature release of the game. The matter was later settled out of court.[6]
Online activities
A self-described "eccentric and vocal personality",[7] Smart is renowned for lengthy and aggressive online responses to perceived criticism.[8]
In an interview which was featured on the cover page of Computer Gaming World, Smart said of his online persona: "Sometimes when I get online, and it's quiet, and I see something that attracts my attention, I'll post just to piss these guys off. That's why I do it. Because I'm in a good mood that day, I go in there and I start trouble."[8] Computer Games Magazine wrote that "Over time, his reputation as an online defender of his games and unabashed pistol-whipper of his enemies overshadows the games themselves."[9]
Smart was reported to be seeking to license the FreeSpace IP to develop a game based on the popular space-sim previously published by Interplay.[10] This sparked a controversy between Smart and FreeSpace fans. GameSpot reported that "Following Bethesda Softworks' acquisition of the Fallout license earlier this week, word spread that cash-strapped publisher Interplay is having a franchise fire sale."[10] In 2007, Smart stated why he decided to stop pursuing the license and instead start a new Galactic Command franchise.[11]
A 2012 in-depth article regarding the disconnect between his real-life and online alter-ego was authored by media veteran Russ Pitts and published by The Verge.[12]
Games