Desktop Destroyer Game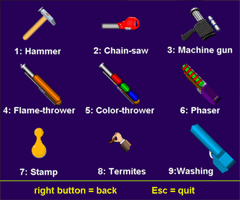 Desktop Destroyer game is the best for those of you who are looking out for easy ways to feel relaxed. The best thing about this game is that you can download it for free, as it is a freeware. Secondly, you do not have to follow any strict strategies while playing the game. Thirdly, the game does not have a specific structure or levels. Therefore, this makes it easy for you to play even when you have just five minutes to relax. These five minutes can give you great amount of fun.
If you are busy with your work and feel that you need some kind of stress buster, then just switch on to this game and play it for a couple of minutes. You are now ready to get back to your work once again in a fresh way. The game is too simple. It requires you to select tools that you can use to destroy the desktop of your PC. The tools cause a virtual damage to the desktop. Termites are one such tool that crawls around the desktop and start chewing it. Choose another tool to eliminate the termite from the desktop. However, you need to do this before the termites eat the complete desktop. You can also use various other tools such as the hammer, washer, machine gun, color-thrower and stamp.
Gemtree Inc developed this magnificent game. As Desktop Destroyer is a freeware, it does not require a license. Moreover, it does not hold any limitations. The file size of the game is around 370.03KB. If you want to try out the game, you need to have a Windows operating system.
Therefore, now you do not have to go to a gym or a therapist to feel relaxed. You have it right at your desktop. In fact, getting rid of stress is important if you want to lead a healthy life and nothing can be better than this simple Desktop Destroyer game.
Resources:
#2 Desktop Destroyer Game - Community fanpage of this game.