Development of Duke Nukem Forever
The video game Duke Nukem Forever (commonly known as DNF) was in development for 13–15 years (possibly the longest game development period in history) and was mainly in development hell. It was ultimately released on June 10, 2011; years after its announcement in 1997.
1997–1998: Quake II engine
[
edit
|
edit source
]
Duke Nukem Forever was officially announced on April 28, 1997, with the intention of releasing the game no later than mid-1998. Barely a year after the release of Duke Nukem 3D, the game's graphics and its game engine, Build, were antiquated. Id Software's new Quake II engine was far superior to Build, so Broussard decided to license it. The price spent for the licensing rights was steep—estimates were as high as $500,000—but Broussard reasoned that it would save time used to write a game engine from scratch. Broussard and Miller were flush with cash from sale of Duke Nukem 3D and other games, so they decided to fund Duke Nukem Forever themselves, turning marketing and publishing rights over to GT Interactive.
In August and September, the first screenshots of Duke Nukem Forever were released in PC Gamer. However, 3D Realms did not receive the Quake II engine code until November 1997, and the earlier screenshots were mock-ups with the Quake engine that the team had made in their spare time. 3D Realms unveiled the first video footage of Duke Nukem Forever using the Quake II engine at the 1998 Electronic Entertainment Expo (E3) conference. The trailer showed Duke fighting on the back of a moving truck and firefights with aliens. While critics were impressed, Broussard was not happy with the progress being made.
Soon after the release of the Quake II engine, Epic Games had unveiled its own Unreal Engine. The Unreal Engine was more realistic than Quake II and was better suited to producing open spaces—3D Realms had been struggling to render the Nevada desert. Soon after E3, a programmer suggested that they make the switch. After discussions, the developers unanimously agreed to the change, which would mean scrapping much of their work so far, including significant changes 3D Realms had made to the Quake Engine. In June 1998, 14 months after the Quake II announcement, 3D Realms made the switch announcement. Broussard said that the game would not be "significantly delayed" by the switch, but that the project would be back to where it was at E3 "within a month to six weeks". Broussard also said that no content seen in the E3 trailer would be lost. Chris Hargrove, one of the game's programmers at the time, confided that the change amounted to a complete reboot of the project.
By the end of 1999, Duke Nukem Foreverhad missed several release dates and was largely unfinished; half the game's weapons remained concepts. Broussard shot back at criticisms of the game's lengthy development time as the price paid for developing complex modern games: Today's games are MUCH more complex. In Duke Nukem 3D all the characters were sprites. Today they are polygonal models, have to be skinned, and then animated or motion captured. A very long, tedious and complex process. Also games today are "deeper" and require more than key/door stuff. That means more time to develop. Note all the so-so [first-person shooter] games that didn't sell well in the last two years and you will see that they were simple compared to more complex efforts like Half-Life. A game like Duke Nukem Forever is probably 5-10 times more complex than Duke Nukem 3D was. A significant factor contributing to the game's protracted development was that Broussard was continually looking to add new elements to the game. A running joke at 3D Realms was to stop Broussard from seeing a new video game, as he would want to include portions of it in Duke Nukem Forever. Later that year Broussard decided to upgrade to a new version of the Unreal engine that was designed for multiplayer matches. Former employees recalled that Broussard did not have a plan for what the finished game would look like. At the same time, GT Interactive was facing higher-than-expected losses and hired Bear Stearns to look into selling the company or merging it.Later that year Infogrames Entertainment announced it was purchasing a controlling interest in GT Interactive. The publishing rights for Duke Nukem Forever passed to Gathering of Developers in early December 2000.
To placate anxious fans, Broussard decided to create another trailer for E3 2001—it was the first public look at the game in three years. The video showed a couple of minutes of in-game footage, which notably showed the player moving in a what appears to be Las Vegas and a certain level of interactivity (the player buys a sandwich from a vending machine and pushes each individual button on a keypad with Duke's outstretched finger). The trailer was impressive, and Duke Nukem was the talk of the convention; IGN reported on the games graphics that, "Characters come to life with picturesque facial animations that are synced perfectly with speech, hair that swings as they bob their heads, eyes that follow gazes, and more. The particle effects system, meanwhile, boasts impressive explosion effects with shimmering fire, shattered glass, and blood spilt in every direction [...] Add in real-time lighting effects, interactive environments, and a variation in locales unequaled in any other first-person shooter and you begin to see and understand why Duke Nukem Forever has been one of the most hotly anticipated titles over the last couple of years." Duke Nukem Forever looked as good or better than most games, and staff at 3D Realms recalled a sense of elation after the presentation; "The video was just being eaten up by people," one said. "We were so far ahead of other people at the time." While many of the staff expected Broussard to make a push for finishing the game, however, he still did not have a finished product in mind. Following the death of one of Gathering of Developers' co-founders and continuing financial problems, the publishers' Texas-based offices were shut down and absorbed into parent company Take-Two Interactive.
2003–2006: Further problems
[
edit
|
edit source
]
By 2003, only 18 people at 3D Realms were working on the game. One former employee said that Broussard and Miller were still operating on a "1995 mentality", before games became large-team, big budget development affairs. Because they were financing the project themselves, the developers could also ignore pressure from their publisher; their standard reply to when Duke Nukem Forever would ship was "when it's done". In 2003, Take-Two CEO Jeffrey Lapin reported that the game would not be out that year. He further said the company was writing off $5.5 million from its earnings due to Duke Nukem Forever's lengthy development time. Broussard shot back that "Take-Two needs to STFU ... We don't want Take-Two saying stupid-ass things in public for the sole purposes of helping their stock. It's our time and our money we are spending on the game. So either we're absolutely stupid and clueless, or we believe in what we are working on. Later that year, Lapin said 3D Realms had told him that Duke Nukem Forever was expected to be finished by the end of 2004, or the beginning of 2005.
In 2004, video game website GameSpot reported that Duke Nukem Forever had switched to the Doom 3 engine. Many gaming news sites mailed Broussard, asking him to confirm or deny the rumor. After receiving no answer from him, they published the rumor as fact, but Broussard explicitly denied the rumor soon after. Soon after 3D Realms replaced the game's Karma physics system with one designed by Meqon, a relatively unknown Swedish firm. Closed-doors demonstrations of the technology suggested that the physics of Duke Nukem Forever would be a step up from the critically-acclaimed Half-Life 2. Rumors suggested that the game would appear at 2005 E3. While 3D Realms' previously-canceled Prey made an appearance, the rumors of Duke Nukem Forever's appearance proved false.
Broussard reported in a January 2006 interview that many of Duke Nukem Forever's elements had been finished; "we're just basically pulling it all together and trying to make it fun". Later that year Broussard demonstrated samples of the game, including an early level, a vehicle sequence, and a few test rooms. Among the features seen was the interactive use of an in-game computer to send actual e-mails. The developer seemed contrite and affected by the long delays; while a journalist demoed the game Broussard referenced note cards and constantly apologized for the state of the game. In filing with the United States Securities and Exchange Commission, Take-Two revealed they had renegotiated the Duke Nukem Forever deal, with the developer receiving $4.25 million instead of $6 million on release of the game. Take-Two offered a $500,000 bonus if Duke Nukem Forever was commercially released by December 31, 2006. However, Broussard denied the rumors that DNF would be released, saying that 3D Realms never cared for or asked for the bonus. He stated that he would "never ship a game early.
Some of the staff were tired of the delays—Duke Nukem Forever was the only 3D game many had worked on, giving them little to put on a resume, and as much of 3D Realms' payment hinged on profit-sharing after release, the continual delays meant deferred income. By August 2006, between 7–10 employees had left since 2005, a majority of the Duke Nukem Forever team (which in recent months had shrunk to around 18 staff). While Shacknews speculated that the departures would lead to further delays, 3D Realms denied the claims, stating that the employees had left over a number of months and that the game was still moving ahead. Creative director Raphael van Lierop, hired in 2007, played through the completed content and realized that there was more finished than he expected. Lierop told Broussard that he felt they could push the game and "blow everyone out of the water", but Broussard responded that the game was still two years away from completion.
2007–2011: Later years in development and release
[
edit
|
edit source
]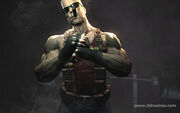 The long delay strained Broussard and Miller's relationship, and by the end of 2006 Broussard appeared to become serious about shipping the title. On January 25 and May 22, 2007, Broussard posted two Gamasutra job ads with small screenshots of Duke Nukem and an enemy, which he later confirmed were real in-game screenshots. The team doubled in size within a short time frame. Among the new hires was project lead Brian Hook, who became the first person to successfully resist Broussard's requests for modifications and changes.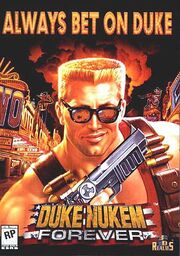 A new game trailer was released on December 19, 2007, the first teaser in more than six years. The video was made by 3D Realms employees as part of holiday festivities. While Broussard maintained the release date would be "when it's done", he added that "you can expect more frequent media releases [and] we have considerable work behind us". While the Dallas Business Journal "confirmed" a 2008 release date for the game, Broussard later reported that this was based on misunderstanding "off the record" information. In-game footage of the game appeared in 2008 premiere episode of The Jace Hall Show. Filmed entirely on hand-held cameras but not originally expected to be publicly released, the video showed host Jason Hall playing through parts of a single level on a PC at 3D Realms' offices. The footage was confirmed to have been shot 6 months prior to the episode air date and according to Broussard, contained outdated particle and combat effects that had since been replaced.
While the game neared completion, the funding began to dry up. Having spent more than $20 million of their own money, Broussard and Miller asked Take-Two for $6 million to complete the game. According to Broussard and Miller, Take-Two initially agreed, but then only offered $2.5 million. Take-Two maintained that they offered $2.5 million up front and another $2.5 million on completion. Broussard rejected the counteroffer, and on May 6, 2009, suspended all development.
3D Realms laid off the DNF staff on May 8, 2009 due to lack of funding, but inside sources claim it will still operate as a smaller company. Publisher Take-Two Interactive, in response, stated that they still hold the publishing rights for Duke Nukem Forever, but they were not funding the game.
On May 14, 2009, Take-Two filed a lawsuit against 3D Realms over their failure to complete Duke Nukem Forever, citing that they paid $12 million to Infogrames in 2000 to acquire the publishing rights. 3D Realms argues, however, that they never received that money, as it was a direct agreement between Infogrames and Take-Two. The lawsuit seems to be over a contractual breach, but not regarding the $12 million mentioned above. Take-Two has asked for a restraining order and a preliminary injunction, to make 3D Realms keep the Duke Nukem Forever assets intact during proceedings. The court denied Take-Two's request for a temporary restraining order.
In June 2009, Apogee court filings stated "3D Realms/Apogee Ltd." admits that it has continually worked on the development of the DNF for many years, and continues to do so" as well as revealing that development halted on 'Duke Begins'. In December 2009, Apogee CEO Scott Miller clarified that "we've never said that Duke Nukem Forever has ceased development," explaining "yes, we released the internal team, but that doesn't correlate to the demise of the project. According to a recent interview with magazine Gamesauce, "3D Realms has laid off the game's internal development team, but still plans to most likely work with external development studios to develop the game. An unofficial compilation of gameplay footage was also released in December 2009. The game's development was transferred to Gearbox Software that same year.
The game was finally released on June 10, 2011.