As part of the Unified Community Platform project, your wiki will be migrated to the new platform in the next few weeks. Read more here.
DigiPen Institute of Technology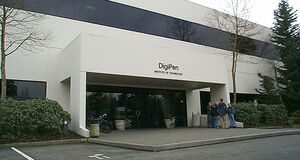 The DigiPen Institute of Technology is a school based in Redmond, Washington (home to both Nintendo of America and Microsoft corporate headquarters) which offers degrees catering toward the video game industry.
In 1988 Claude Comair founded the DigiPen Applied Computer Graphics School in Vancouver, British Columbia (Canada). As years passed the school evolved into not only computer graphics education, but also computer programming. The school was relocated in 1998 to Redmond, and by this time they had attained the legal right to grant degrees in both 3D Computer Animation and in Real-Time Interactive Simulation (RTIS is a fancy phrase for video games). In 2005 they also began offering a degree in Computer Engineering.
DigiPen is a small school of only a few hundred students. It pays rent to Nintendo Software Technology, as the physical school is half of an NST building, students being only feet away from on-the-clock developers and NOA's shipping and receiving dock at any given time.
For more information see DigiPen's online history page.