Dub (Fuzion Frenzy)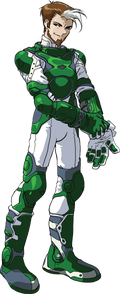 Dub is one of the 6 playable characters in the Fuzion Frenzy series.
Dub is never without his earphones...he listens to everything from urban beats to the news. Dub is as comfortable competing in a game as he is ripping music at home.
Dub always wears headphones and is famous for listening to everything from bass-pumping mainstream jams to online underground podcasts.
That much hasn't changed, but now he has earphones implanted in his ears so he can listen to music from morning to night, even when he's sleeping.
The sold by his record company shouts his feelings to the world.