Entertainment for All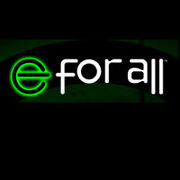 Entertainment for All or E for All, is a video games trade show announced on January 5, 2007 by IDG World Expo. This tradeshow, endorsed by Entertainment Software Association, replaces the GamePro Expo, and is a consumer oriented successor to E3.
The first E for All was on October 18–21, 2007. IDG World Expo reports that that an estimated 18,000 people attended the E for All. There were 70 vendors and demos of games such as Super Smash Bros. Brawl and Metal Gear Solid 4.