Feeding frenzy: Orca
Killer whales are the third biggest creature in the game in the second game, they most appearing in medium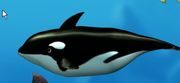 and hard difficulties levels of the game.
Known and as ''Killer whale''. They can be eatable just by a great white shark called ''Goliath''. They eat pompano, cuttlefish, leopard sharks, marlins, tuna , pufferfish, john dorys, barracuda and herring. They are driven out by the Intruder but manage to come back with their to get rid of them you can use a power-up called ''Tricky Trick'' which lures enemies huge than the main fish who is controlled by the player.
In the first game they can be playable.
They can't eat their own species.
They are not dangerous for humans in wild.
They recognize another orca by it's voice.
Acting like a dolphin, they can learn lots of tricks.
As adult orcas can have between 5-7 tones.