Fred Upton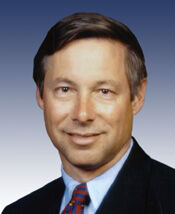 Frederick Stephen "Fred" Upton, (born April 23, 1953) is a politician from the U.S. state of Michigan. He is a Republican member of the United States House of Representatives, serving the state's 6th Congressional District.
On September 29, 2006, Upton introduced the Video Game Decency Act (H.R.6120) to the House. The aim of the legislation is "To prohibit deceptive acts and practices in the content rating and labeling of video games".
On March 20, 2007 Upton proposed H.R. 1531, titled the 'Video Game Decency Act of 2007. The bill states that if a company fail to disclose age based video game content they can be prosecuted by a judge under the Federal Trade Commission Act.