Gears of War/Soundtrack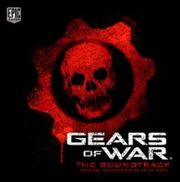 Gears of War - The Soundtrack is the soundtrack of video game music from Gears of War for the Xbox 360 console. It is scheduled for release on July 31, 2007 by Sumthing Else Music Works.
"Gears of War"
"14 Years After E-Day"
"Jacinto Prison"
"Attack of the Drones"
"Embry Square"
"Fish in a Barrel"
"House of Sovereigns"
"Minh's Death"
"Entering the Tombs"
"Tomb of the Unknowns"
"Ephyra Streets I"
"Ephyra Streets II"
"Miserable Wretches"
"Stay in the Light"
"Chap's Gas Station"
"Fill 'er Up at Chap's"
"I Will Kryll You"
"Locust, Wretches & Kryll"
"Imulsion Mines"
"East Barracade Academy"
"The Fenix Estate"
"Locust Infestation"
"Hidden Lab"
"Running With Boomers"
"Oh the Horror"
"Train Wreck - Locust Theme"
"Train Ride to Hell"
"Gears of War Reprise"