Guitar Hero: World Tour
Guitar Hero: World Tour
Front-Cover-Guitar-Hero-World-Tour-NA-X360.jpg
Developer(s)
Neversoft, Vicarious Visions, Budcat Creations
Publisher(s)
Activision, Aspyr
Release date
Release Date Missing
Genre
Music, rhythm
Mode(s)
Game Mode(s) Missing
Age rating(s)
ESRB-T, ACB-PG, BBFC-12, USK-All, PEGI-12+
Platform(s)
PlayStation 3, Xbox 360, Wii, PlayStation 2, Microsoft Windows, Mac OS X
Credits | Soundtrack | Codes | Walkthrough
Guitar Hero World Tour is the latest entry in the Guitar Hero series, developed by Neversoft for PlayStation 3 and Xbox 360, Vicarious Visions for Wii, and published by Activision.
Guitar Hero World Tour is the first in the series to feature drum and singing careers, as well as the original guitar career.[1] The guitar gameplay remains mostly the same, save for a new feature called the slide bar. Slide bar notes are similar to hammer ons, in that they don't have to be strummed, but slide bar notes are easier to play and appear hollow on screen. The drum career is similar to that of Rock Band's drum career, in that a drum pad must be hit with the corresponding note that scrolls down the screen. The Guitar Hero drum kit has six pieces rather than Rock Band's five. The singing career is also very similar to Rock Band. Players can chose a scrolling or stationary HUD. A new difficulty, beginner, was added to the current list of difficulties so that the game would be easier on newcomers.
The Wii, Xbox 360, and PlayStation 3 versions of the game all offer online play. Online modes include Battle Mode, Pro Face-Off, Face-Off, and Co-op. The matchmaking system is similar to both Guitar Hero III and Rock Band.
All 86 songs in the game are master recordings, a first for the series.[2]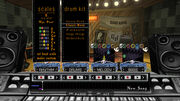 Guitar Hero World Tour is also the first game in the series in which players can create their own songs in game. The songs can then be shared among others. Guitar Hero custom songs have a limit of either three minutes in length or 1200 notes, whichever comes first.