Irritation Stickman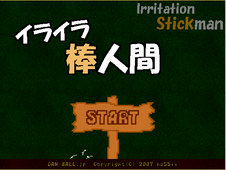 Irritation Stickman is a game where the goal is to drag stick fighters to the goal while collecting coins and medals.
Game specifics
Items
Coin

Adds one point to the player's score.

Medal

Adds 20 seconds to the time limit.
Bonus points
When all stick men are led to the goal, bonus points are obtained.
Total points
Stickman + 2xCoins obtained + Bonus points (2xCoins obtained)
External links