Night Terror
Night Terror (ナイトテラー Naito Terā?) is the secret final boss in Soulcalibur III.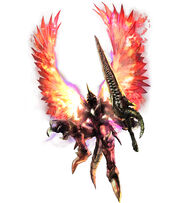 Night Terror is created when the energies of both Soul Edge and Soul Calibur fuse with the remains of Nightmare, which contained Soul Edge's soul, Inferno. In Soulcalibur III: Arcade Edition, Night Terror remains a non-playable boss character, though this time he appears at random in the arcade's end match, alongside Abyss.
Night Terror has special attributes in in-game combat; for instance, he can't be defeated by ring out. If he is knocked out of the ring, a cut-scene plays in which Night Terror uses his wings to fly back to the arena.