OUYA
The Ouya is a video game console running its own version of the Android operating system. The console project was founded by Jilie Uhrman, a game industry venteran, in 2012. Joined by dsigner Yves Béhar and product manager Muffi Ghaiali. Development was funded from a successful crowd-funding campaign on Kickstarter.
The console is due to release on June 25th, 2013.
The Ouya will feature an exclusive Ouya store for applications and games designed speicifcally for the platform. The console will include a built-in TwitchTV application and access to the OnLive video game streaming service. The hardware design of the Ouya allows for easy opening, allowing easy access to moding and possible hardware addons.
All systems can be used as development kits for the Ouya,. All games will be required to have some element of a free-to-play aspect, whether that involved being a completely free game, free trial, or purchasable upgrades, levels, or items.
The controller features two analog sticks, a four buttons spelling OUYA, a directional pad, four triggers, a center button and a touch-pad making porting Android games easier.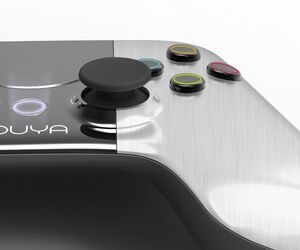 Operating System: Android 4.1 Jelly Bean
System-on-chip: Nvidia Tegra 3 (T33) SoC
CPU: 1.7 GHz Quad-Core ARM Cortex-A9
Storage Capacity: 8 GB internal flash memory
Memory: 1 GB RAM
Display: HDMI (1080p, 1080i, 720p)
Graphics: Nvidia ULP GeForce
Input: USB 2.0, Micro USB (for PC connection)
Controller Input: Wireless Controller
Connectivity: Wi-FI 802.11 b/g/n, Bluetooth LE 4.0, Ethernet port
Dimensions: 75 mm (2.95 inc) cube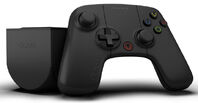 Since its release, the OUYA has had several limited time special editions. Here they are:
Developer Edtion- A clear version shipped to all game developers.
Kickstarter Edition- A mocha colored console sent to Kickstarter backers.
White Edition- A white colored console sold during the Christmas season featuring 16gb storage.
Black Edition- A black colored console featuring 16gb storage