Difference between revisions of "Project H.A.M.M.E.R."
---
Revision as of 08:40, 14 September 2007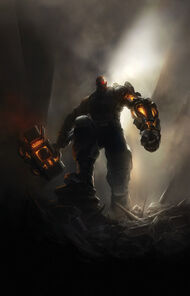 A new Nintendo property, Project H.A.M.M.E.R. was an upcoming beat 'em up for their Wii console. Little is known about the game, other than you control a currently nameless, ripped, hammer-wielding, armor-clad, eye-glowing character against an army of robots in a damaged urban setting. Attacks are executed with both the buttons and the motion sensing capabilities of the controller.
It was expected to arrive in 2006, but as of E3 2007, it was reported that game development had ceased. [1]