Silicon Knights
Silicon Knights
Silicon_Knights_logo.gif
Type
S.A.
Founded
July 1992
Defunct
Headquarters
Canada
Products
Parent Company
N/A
Website
[1]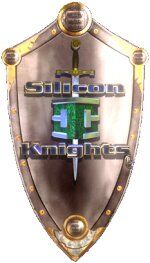 Silicon Knights is a small video game developer based out of St Catharines, Ontario, Canada. The company has so far released 6 games.
Silicon Knights was founded by Dennis Dyack in the early nineties. Their first game, Cyber Empires was published in 1992. Silicon Knights is known to take a very long to create a game, and their game Too Human (under development) has been under production since around 1995.
In the year 2000, Silicon Knights partnered with industry giant Nintendo to create games for their Gamecube console. However, Silicon Knights only released two games for the Gamecube before announcing they were no longer partnered with Nintendo in 2004.
In 2005, Silicon Knights announced that they partnered with Microsoft to create games for the Xbox 360 console.
Silicon Knights is currently working with Microsoft on the Too Human trilogy and Sega on an unannounced project.