Smeargle
Smeargle (Doble in original Japanese language versions) is a Pokémon from the Pokémon franchise – a series of video games, anime, manga, books, trading cards and other media created by Satoshi Tajiri.
Smeargle is the painter of the Pokémon world and is best known for its "Sketch" attack, unique among Pokémon skills. The name Smeargle is a portmanteau of the words smear, as applied to painting, and beagle, a breed of dog. Its Japanese name is a portmanteau of dog and dabble.
Biological characteristics
[
edit
|
edit source
]
Smeargle looks like a bipedal beagle with a cranial structure resembling an artist's cap (or beret) and a long, possibly prehensile tail which ends in a tuft of fur similar to a paintbrush. The tuft is continuously soaked by a special colored fluid secreted from the tip of the Smeargle's tail.
The color of the fluid is predetermined and, one could assume, unique for every Smeargle. The Smeargle uses this hard-to-remove fluid as a pigment to mark the boundaries of its territory and print its footprints on the backs of its fellows once they reach maturity. The markings that Smeargle leaves around the boundaries of its territory have a consistent pattern of some sort to them, as in, they are not completely random; over 5000 distinctive marks have been found.
Smeargle is notable for its "Sketch" attack technique, which is unique to Smeargle. When used, it will replace itself permanently with the last attack technique used by an opponent Pokémon against Smeargle. It learns Sketch every ten levels. There are a few attacks Sketch cannot copy, but it can learn nearly every attack in the game, making it similar to Mew in that respect. It is one of the most versatile Pokémon as a result.
Due to its very wide movepool, Smeargle is also very useful for breeding Pokémon for Egg Moves (moves that can only be learned by breeding). This allows players to breed their own Pokémon with custom movesets without having to use TMs and allows the learning of otherwise unlearnable moves.
The Smeargle species was featured in the episode "The Art of Pokémon", where three of the painter Pokémon have gone out of control in Whitestone City, relentlessly graffitiing the spotless walls of its buildings while in search of inspiration. They were owned by an old painter named Jack Pollockson, an obvious reference to Jackson Pollock, a famous real-life abstract artist. Smeargle also made a minor appearance in Pichu Bros. in Party Panic on Pokémon Channel.
A single Smeargle once appeared on Pokémon Chronicles when an invisible Kecleon stole Meowth's lunch. Fortunately, a Smeargle was nearby and painted the Kecleon, making it visible.
Several Smeargle appear in the Battle Frontier's Artisan Cave in the Emerald saga of Pokémon Adventures. Knowing full-well of Smeargle's Sketch move, Noland takes the other Frontier Brains to Artisan Cave to find out if Jirachi had been there previously. Noland's hunch proves true; three Smeargle had Sketched Jirachi's glowing aura.
Smeargle has appeared as a basic stage colorless type Pokémon in the following expansions:
Neo Discovery (2 cards, One Holofoil)
Aquapolis
Promo Book Card
EX: Unseen Forces
The Promo Book Card was banned from professional tournaments due to Smeargle's Paint attack, which could change the Defending Pokémon's type.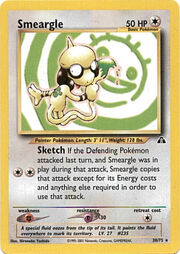 Publications
Barbo, Maria. The Official Pokémon Handbook. Scholastic Publishing, 1999. ISBN 0-439-15404-9.
Loe, Casey, ed. Pokémon Special Pikachu Edition Official Perfect Guide. Sunnydale, CA: Empire 21 Publishing, 1999. ISBN 1-930206-15-1.
Nintendo Power. Official Nintendo Pokémon FireRed & Pokémon LeafGreen Player's Guide. Nintendo of America Inc., August 2004. ISBN 1-930206-50-X
Mylonas, Eric. Pokémon Pokédex Collector's Edition: Prima's Official Pokémon Guide. Prima Games, September 21, 2004. ISBN 0-7615-4761-4
Nintendo Power. Official Nintendo Pokémon Emerald Version Player's Guide. Nintendo of America Inc., April 2005. ISBN 1-930206-58-5