Swan Crystal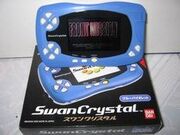 The SwanCrystal is the third (and likely final) version of Bandai's WonderSwan handheld game console brand, succeeding the WonderSwan and WonderSwan Color. It was released November 2002.
It is essentially the same as the WonderSwan Color, except that the SwanCrystal uses a TFT LCD, superior in response time to the FSTN reflective LCD technology used previously. This gives the screen a much crisper look during gameplay, due to sharper contrast and significantly reduced ghosting. As a result, the SwanCrystal does not possess the contrast adjustment dial found on the other models. Other notable differences are the four selectable volume settings (compared to three on previous models), and a face-mounted power button (compared to a side-mounted switch on previous models).
The SwanCrystal is compatible with games for both the WonderSwan Color and the original WonderSwan. The SwanCrystal is available in four colors: Skeleton Blue, Skeleton Black, Blue Violet and Red Wine. About 15 hours of play can be obtained from one AA battery.