The Lord of the Rings: War in the North
The Lord of the Rings: War in the North is a role-playing game developed by Snowblind Studios. It is based on the events taking place in the northern regions of Middle-earth in the background of the main story of J.R.R. Tolkien's The Lord of the Rings. Players take control of one of three different heroes of the war: Eradan, the Human Ranger, Farin the Warrior Dwarf, and Andriel, the Elven Loremaster. Players will be able to play through the game alone or cooperatively with up to two others. There is also the ability to adjust the percentage of experience your co-op partner receives.

In a preview article of PlayStation Magazine, it has been revealed that you will have certain skills that are upgradeable, characters that can be customized, and dialog will be like Mass Effect without the moral ramifications. The game released in North America and Europe in 2011, with a Mac OS X version released in 2013. The game features stronger graphic violence than previous Lord of the Rings games and is the first game in the series to receive an M rating from the ESRB.[1]
The three main characters are Eradan, Farin, and Andriel.
Eradan is a human ranger who is strong at all weapon types including bow and arrow, dual wielding swords, two-handed swords and sword and shield. Eradan can also learn many stealth attacks to sneak up on enemies.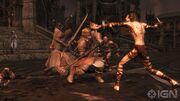 Farin is a Dwarf warrior who specializes in melee attacks. He also has a crossbow that can be used for ranged attacks. In addition to fighting, Farin also has the ability to mine for gems.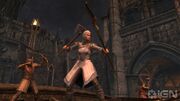 Andriel is an Elf loremaster. She specializes in magic attacks, both for attack and support. Andriel can also use melee weapons such as dual wielding weapons or using a weapon in one hand and her staff in the other. She can also create potions with found ingredients.