Toro Inoue
Toro (トロ), real name Toro Inoue (井上トロ Inoue Toro), also known as the Sony Cat, is a fictional character created by Sony Computer Entertainment.
Toro's family name originated from a debugger called Toro 'Inoue'(井上 Inoue).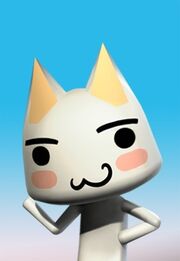 The character, an anthropomorphized Super Deformed design style white cat, is characterized by its big, trapezium-shaped face, a rectangular-shaped body, and its vast variety of face expressions.
Toro, a cat who wishes to be human, is Sony's mascot in Japan.[1]
It first appeared in July 1999 as the main character (chatterbot) in the video game Doko Demo Issyo (also written as Doko Demo Issho, meaning "Together everywhere") on the Sony PlayStation, and included support for the PocketStation produced by the same company.
Toro also appears in the PlayStation 2 video game Ape Escape Million Monkeys by SCE.
In December 2004, Dokodemo Issho was released on the PSP, a free demo being available in the Japanese PlayStation Store.
Toro also stars in the PlayStation 3 title Mainichi Issho ("Everyday together"), a talk show-like game where Toro delivers daily news together with Kuro, his black cat neighbor. The "ToroStation" show is a pun on the PlayStation series. Players can also answer trivia questions to win game money (Myale) and prizes such as furniture to decorate Toro's in-game apartment. An online IQ versus test game is also possible. Mainichi Issho is available free of charge download in the Japanese PlayStation Store only. More recently, Toro appeared as a playable character in long-running golf series, Minna No Golf (Hot Shots Golf in USA, Everybody's Golf in UK.) A Toro costume is also available as a downloadable costume in the game LittleBigPlanet.
This file was sourced from

Wikimedia Commons

. Additional media related to this image may be found at:

Toro