Totodile
Totodile
[[File:]]

Page Type(s)

N/A
Pokémon
Basic Information

Height

2′00″ (0.6m)

Weight

20.9 lbs. (9.5kg)

Signature Move

Bite
Torrent
Evolutionary Information

Stage

Basic

Evolves to...

Croconaw (Lv 18)

Gender

12.5% Female, 87.5% Male

Species

Big Jaw Pokémon

Appearance(s)

Pokémon Gold and Silver
The name Totodile comes from the words tot (a word for a small child) and crocodile. For the Japanese Waninoko, "wani" (ワニ) means alligator and "ko" is a suffix that means "child".
Totodile's appearance is based on amphibious reptiles such as the crocodile or the alligator. It has a short blue body broken by a yellow band on its chest. On its back and tail are four red spikes. Totodile has a big and prominent jaw, filled with many sharp teeth. Its blue colour resembles water - its type.
Despite its small size and unevolved status, Totodile are surprisingly fast and have very powerful jaws, strong enough to cut down a tree. It has a rough and tough attitude, and is not a Pokémon to be trifled with. It's very energetic, cheerful and rowdy, and occasionally can be seen running through swampy areas, biting and chomping at everything that moves. There have been rare instances in which Totodile have been found roaming the sewers of large cities.
Totodile itself does not seem to realize its own strength. It may be causing serious injury while it thinks it's just playfully nipping. Therefore, constant supervision is required on the part of Totodile's trainer. It evolves into Croconaw.
In Pokémon Gold, Silver and Crystal, Totodile is one of three starter Pokémon offered by Professor Elm near the start of the game, the other two being Chikorita and Cyndaquil. Choosing Totodile is considered the easiest to beat the game with, being able to learn Ice-type moves that are super effective against Dragon Pokémon as well as other advantages.
In the Gameboy Advance Generation of Pokémon games Totodile first became available by breeding the Croconaw snagged in Pokémon Colosseum. In Pokémon Emerald, if the player completes the Hoenn region Pokédex, Professor Birch will offer as a reward a choice between Chikorita, Cyndaquil and Totodile.
Totodile can also be found in Pokémon XD, but only after completing all 100 stages on Mt. Battle without changing Pokémon. If successful, players can choose between Totodile, Chikorita and Cyndaquil. Whichever Pokémon they don't choose can be obtained if the same conditions are met another time. If Totodile is chosen, it will have Hydro Cannon, an extremely powerful Water-type attack that is otherwise exclusive to Blastoise. Totodile is also one of the sixteen starters in the Pokémon Mystery Dungeon games. He can also be found in the Waterfall Pond Dungeon.Totodile is unobtainable in Diamond and Pearl, the only way to get one is by either trading it from Pokémon XD or Pokémon Emerald. The other option of getting him is by using a cheat of some sort.
Totodile and its evolved forms have fairly good Defense, and its Attack is higher than its Special Attack. Its attacks are very basic and common, and include Scratch, Bite, Water Gun and Hydro Pump.
Totodile is also a trophy in Super Smash Bros. Melee.
Totodile's first appearance was in the first episode in the Johto story arc (#119-Don't touch that 'Dile). Team Rocket took advantage of Professor Elm's absentmindedness to kidnap a Totodile he kept as a starter Pokémon. Eventually Ash recovered the Totodile, which had been giving its kidnappers a hard time by biting Jessie's hair.
Another Totodile was acquired by Ash in episode #153 (The Totodile Duel). He and Misty threw their Lure Balls simultaneously at it, so it was unclear who had actually caught it. The matter was settled with a Pokémon battle, which Ash won.
Ash's Totodile is rather care-free. Once, it got distracted from the battle and chose instead to go for a swim. It also enjoys dancing. Every time it comes out of its Poké Ball, it does a little dance before entering battle. Ash used his Totodile in many battles throughout Johto, including for the whirpool cup, in which it battled a Kingdra and won by biting it, clamping its jaws shut, while Kingdra was using hydro pump, causing it to back up with water and inflating its head and then inflating it's stomach to an enormous size, after he let go Kingdra went flying around like an untied water balloon, with the water rushing out of its mouth, but was later defeated by Misty's Poliwhirl. In the Johto League, it battled a Trainer's Slugma, but was defeated by an Electabuzz. It also battled Harrison's Sneasel and won, but was defeated by Harrison's Hypno.
Totodile is currently at Professor Oak's lab since Ash decided to make a fresh start when going to Hoenn, and therefore, left all of his Pokémon, except Pikachu with Professor Oak.
In Pokémon Adventures, Professor Elm's Totodile is stolen by Silver. (The same thing will happen in Pokémon Gold, Silver and Crystal when the chosen starter Pokémon is Cyndaquil.)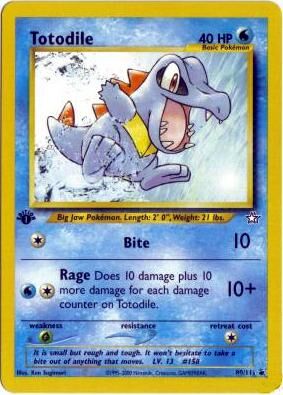 In Pokémon Adventures, Professor Elm's Totodile is stolen by Silver. (The same thing will happen in Pokémon Gold, Silver and Crystal when the chosen starter Pokémon is Cyndaquil.)
Totodile, in terms of number of cards it has appeared on, is actually right behind Cyndaquil and right before Chikorita:
Neo Genesis
Neo Destiny
Expedition
EX Hidden Legends
EX Unseen Forces
Notes
Publications
Nintendo Power. Official Nintendo Pokémon Player's Guide. Nintendo of America Inc., 1998. ASIN B000CQP8FE
Nintendo Power. Official Nintendo Pokémon Player's Guide Special Edition for Yellow, Red and Blue. Nintendo of America Inc., 1999. ASIN B000CQT878
Barbo, Maria. The Official Pokémon Handbook. Scholastic Publishing, 1999. ISBN 0-439-15404-9.
Loe, Casey, ed. Pokémon Special Pikachu Edition Official Perfect Guide. Sunnydale, CA: Empire 21 Publishing, 1999. ISBN 1-930206-15-1.
Nintendo Power. Official Nintendo Pokémon Snap Player's Guide. Nintendo of America Inc., 1999. ASIN B000CDZP9G
Nintendo Power. Super Smash Bros. Melee Official Nintendo Player's Guide. Nintendo of America Inc., 2001. ISBN 1-930206-19-4
Nintendo Power. Official Nintendo Pokémon Ruby Version & Sapphire Version Player's Guide. Nintendo of America Inc., 2003. ISBN 1-930206-31-3
Nintendo Power. Official Nintendo Pokémon Colosseum Player's Guide. Nintendo of America Inc., March 2004. ISBN 1-930206-47-X
Nintendo Power. Official Nintendo Pokémon FireRed & Pokémon LeafGreen Player's Guide. Nintendo of America Inc., August 2004. ISBN 1-930206-50-X
Mylonas, Eric. Pokémon Pokédex Collector's Edition: Prima's Official Pokémon Guide. Prima Games, September 21, 2004. ISBN 0-7615-4761-4
Nintendo Power. Official Nintendo Pokémon Emerald Version Player's Guide. Nintendo of America Inc., April 2005. ISBN 1-930206-58-5
Nintendo Power. Official Nintendo Pokémon XD: Gale of Darkness Player's Guide. Nintendo of America Inc., September 22, 2005. ISBN 1-59812-002-6
Manga volumes
Ono, Toshihiro. Pokémon: The Electric Tale of Pikachu! Graphic Novel. VIZ Media LLC, September 9, 1999. ISBN 1-56931-378-4
Ono, Toshihiro. Pokémon: Pikachu Shocks Back Graphic Novel. VIZ Media LLC, December 6, 1999. ISBN 1-56931-411-X
Ono, Toshihiro. Pokémon: Electric Pikachu Boogaloo Graphic Novel. VIZ Media LLC, April 5, 2000. ISBN 1-56931-436-5
Ono, Toshihiro. Pokémon: Surf's Up, Pikachu Graphic Novel. VIZ Media LLC, June 2000. ISBN 1-56931-494-2
Kusaka, Hidenori, & Mato. Pokémon Adventures, Volume 1: Desperado Pikachu. VIZ Media LLC, July 6, 2000. ISBN 1-56931-507-8
Kusaka, Hidenori, & Mato. Pokémon Adventures, Volume 2: Legendary Pokémon. VIZ Media LLC, December 6, 2000. ISBN 1-56931-508-6
Kusaka, Hidenori, & Mato. Pokémon Adventures, Volume 3: Saffron City Siege. VIZ Media LLC, August 5, 2001. ISBN 1-56931-560-4
Kusaka, Hidenori, & Mato. Pokémon Adventures, Volume 4: The Yellow Caballero: A Trainer in Yellow. VIZ Media LLC, January 9, 2002. ISBN 1-56931-710-0
Kusaka, Hidenori, & Mato. Pokémon Adventures, Volume 5: The Yellow Caballero: Making Waves. VIZ Media LLC, April 2002. ISBN 1-59116-027-8
Kusaka, Hidenori, & Mato. Pokémon Adventures, Volume 6: The Yellow Caballero: The Cave Campaign. VIZ Media LLC, September 5, 2002. ISBN 1-59116-028-6
Kusaka, Hidenori, & Mato. Pokémon Adventures, Volume 7: The Yellow Caballero: The Pokémon Elite. VIZ Media LLC, January 2003. ISBN 1-56931-851-4