Zack & Wiki: Quest for Barbaros' Treasure
Zack & Wiki: Quest for Barbaros' Treasure
Basic Information

Type(s)

Video Game
Capcom
Capcom
Puzzle
Wii
PlayStation 2 and PlayStation 3
Retail Features
Ratings
North American

Release Date(s)

Wii
2007
Awards | Changelog | Cheats | Codes
Codex | Compatibility | Covers | Credits | DLC | Help
Localization | Manifest | Modding | Patches | Ratings
Reviews | Screenshots | Soundtrack
Videos | Walkthrough
Achievements
GOG | In-Game | Origin | PlayStation Trophies | Retro
Steam | Xbox Live
Zack & Wiki: Quest for Barbaros' Treasure, formerly Project Treasure Island Z, is an innovative and "full-length" puzzle adventure game from Capcom for the Wii. Using unique gameplay mechanics the title will saddle players in the role of Zack, a young pirate apprentice, who's journey to become the greatest pirate ever will task him in finding the ancient treasure of Barbaros and lifting an age-old curse. By completing all-new and very original puzzles, Zack will travel across stages ranging from icey to volcanic. This game was officially announced announced on March 16th, 2007. The PlayStation 2 & PlayStation 3 Versions Were Cancelled.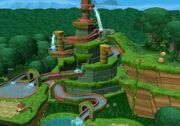 Legend has it that a revered pirate named Barbaros once stole the world's treasure and hid it on a mysterious island. Though no one knows of its exact location, stories about the untold riches that lay deeply hidden have been passed down through the ages, driving pirates from all walks of life to pursue the alluring prizes.
One of these treasure seekers, an apprentice pirate named Zack, discovers upon a mysterious talking skull -- the skull of Barbaros himself! Barbaros promises to reveal the key to the island, but only if Zack helps to lift the curse he is under.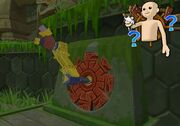 Players will explore wondrous environments and stages, solving puzzles and interacting with this amazing world as they search of vast riches and the ultimate goal: becoming the greatest pirate the world has ever seen. Inventive gameplay mechanics and controller movements allow players to move and open objects, transform items, unlock new pathways and navigate through a jungle, ice temple, volcanic caves and more, each with multiple sub-areas.
Players will use the Wii Remote controller to rotate handles, turn keys to open doors, play a piccolo and much more in order to solve the progressively difficult puzzles and collect items that will lead to the legendary pirate ship.