Zombie Crisis 3D:PROLOGUE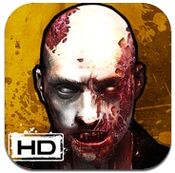 Description (from Apple app store):
both iphone&ipad version of this game are FREE now
Zombie Crisis 3D 3:killzone is coming!
Defeat the zombies with the magic spiritual power! Terry once was the research object in Dr. Tsker's mind control program before the outbreak of the event "Zombie Crisis 3D". While one night, Terry was awakened by a loud explosion, and he found this was a good opportunity for him to escape from the lab, unfortunately various kinds of Zombies which were infected by virus stood in his way to outside world. Terry must kill the zombies in order to escape! Zombie Crisis 3D is quite different from other first-person shooter zombie games for its fresh new gameplay .For example, players are required to attack and kill the zombies by throwing the knives, which are totally controlled by the spiritual power of Terry. Features:
-High quality Textures.
-Other story line in Zombie Crisis.
-Various kinds of zombies.
-4 game modes: Normal, Time attack, Hard and Headshot only.
-Unlockable endless Ex-Battle mode.
-Game center supported.